Are you planning to buy new bedding? We will reveal some of our tips that you should take into account before purchasing.
When it comes to choosing the best bed linen you have to consider a number of things. A good bed set needs to have a number of characteristics. Together with Redfin we contributed to their article perfect bedding for a better night's sleep to help homeowners choose the right bedding for their lifestyle.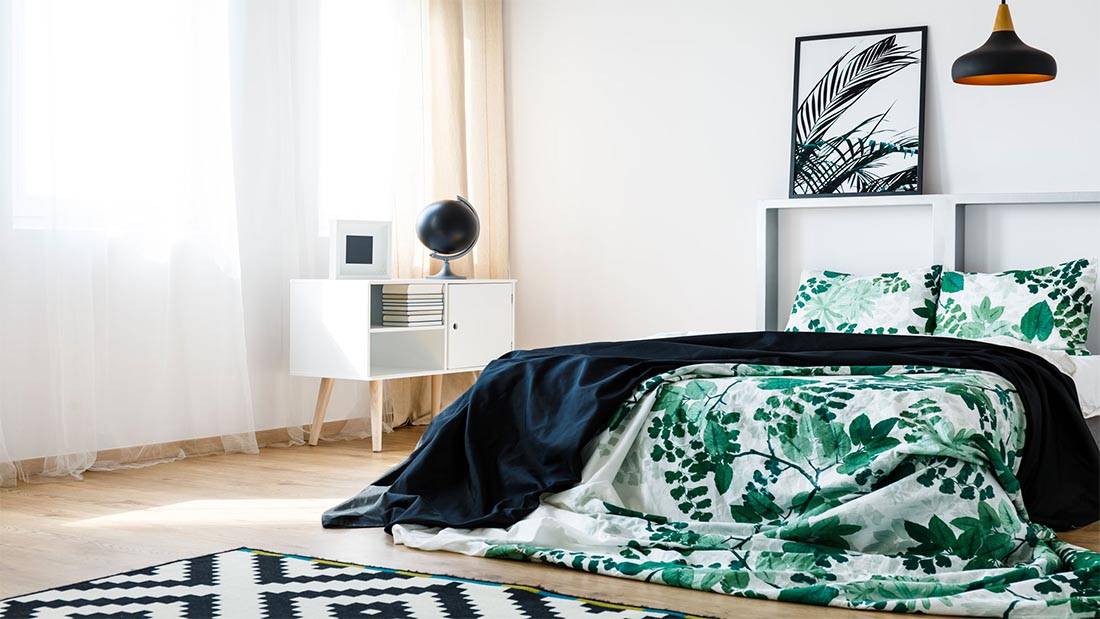 Let's start off with the mattress. Usually one doesn't spend too much time comparing mattresses. That is very unfortunate because it can make the difference between a bad and a good night's sleep. A good mattress with the right bedding is of great importance and forms the basis of getting real quality time sleep.
Do not confuse a quilt, also known as a comforter, with a duvet cover or cover. We are talking about two different bedding accessories here! A quilt is a thick bedspread filled with down or a similar material, for example feathers. A duvet cover protects your comforter and can be removed and washed separately.
How big should your comforter and duvet cover be?
First you have to know what the size of your bed is.
What are the two most common bed sizes in the US ?
• A Queen Size bed measures approximately: 60″ x 80″
• A King Size bed measures approximately: 76″ × 80″
Did you know that a King-size comforter looks and fits perfectly fine on a Queen-size bed?
If you like to curl up completely without disturbing your partner we recommend getting a larger size comforter. Sizing up can come in handy if you are struggling to keep the comforter on your side of the bed. Besides that it also covers more of your bed frame and retains more warmth in cooler weather.
Some couples like it better when each partner has their own comforter that makes for much happier sleep. You can still snuggle with two comforters when you want to … but when you sleep … there is nobody grabbing the covers off.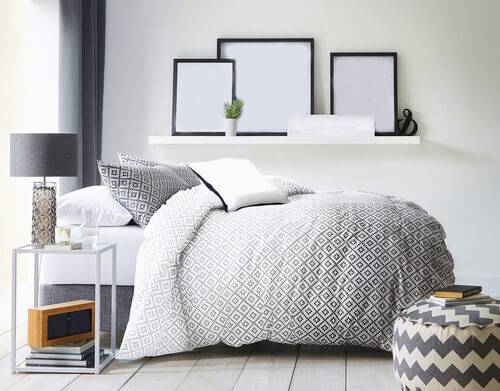 Reversible Covers
Wouldn't it be nice to change your duvet cover from color or pattern once in a while?
Reversible duvet covers have a design on the top and bottom with a solid color or pattern on one side while the other side of the cover shows a contrasting color or design. So go for a mix & match. This way you have two covers for the price of one!
Take into account any decorative pillows that you already have. Ideally if they match both sides of the duvet cover you don't have to buy new cushions.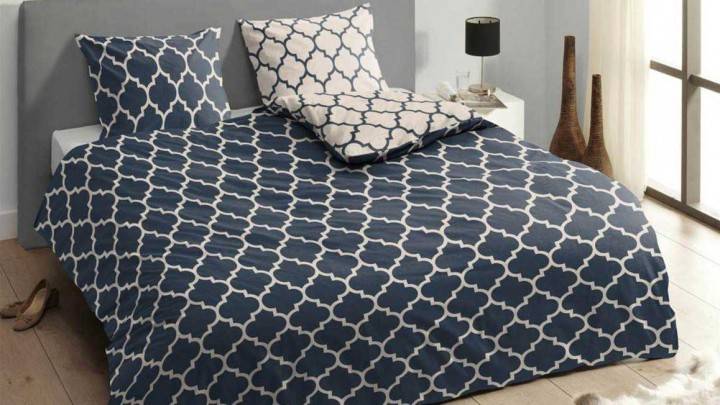 Choosing a high quality duvet cover
Like we mentioned above, we do not always pay enough attention to the quality of our sleep. The furniture in our bedroom is not always that important and we do not pay much attention to our mattress either.
However, when it comes to bedding, it is worth paying attention to the material used and its quality. Remember that the main function of a comforter is to retain heat.
A good duvet cover has the right balance between cotton and polyester. So buy a cover that is a mix of these materials. If they are used in the right combination you will not get overheated and sleep like a baby!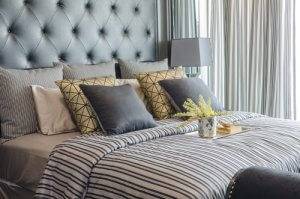 Different types of comforters on the market.
There are different types of comforters on the market. The classic natural comforter contains natural feathers and down filling or an alternative down comforter made with microfiber or other filling.
Different materials directly influence the temperature. Consider what a certain filling is doing in terms of heat storage. Try them out. This way you can choose the comforter cover that suits and comforts you perfectly.
Last but not least
We hope everybody benefits from these tips in finding a matching bed set. Some people make their bed with a duvet covered with sheets. This makes no sense and works the other way around because the comforter is unable to retain heat.
The bed cover set you ultimately purchase must fit well with the color scheme and the general design of your bedroom. With the above tips you are ready to find the perfect bedding set that will turn your bedroom in a sanctuary.