No More Messy or Wrinkled Sheets Again
A solid night of sleep is essential to leading a healthful life and of course, the feel of a smooth and stretched bed sheet foundation is what a solid night of slumber is built upon.
This is where the Bed Sheet Grippers can help you out!
If your bed sheet keeps moving and making your bed uncomfortable it is finally time to tighten things up!
This package of 4 fasteners is made of sturdy anti-slip clips and heavy duty cords that will grip your bed sheets in every corner firmly at all time.
The built-in plastic clinch system protects the fabric from being damaged while holding it tightly in place. It keeps fitted sheets from sliding off and its corners in place.
The thick and wide bands ensure a stronger and more durable holding.
It works perfectly with a variety of beddings like linens, but also on mattress pads, table linens, ironing board covers, slipcovers and more.
Say goodbye to those loose wavy sheets in the morning!
– Time-saving and convenient.
– No wasting time on arranging the bedspread.
– The 4 clips hold the four angles tightly to prevent displacement and disorder.
– Also for fastening table cloths, sofa covers, window seat cushion covers, and so on.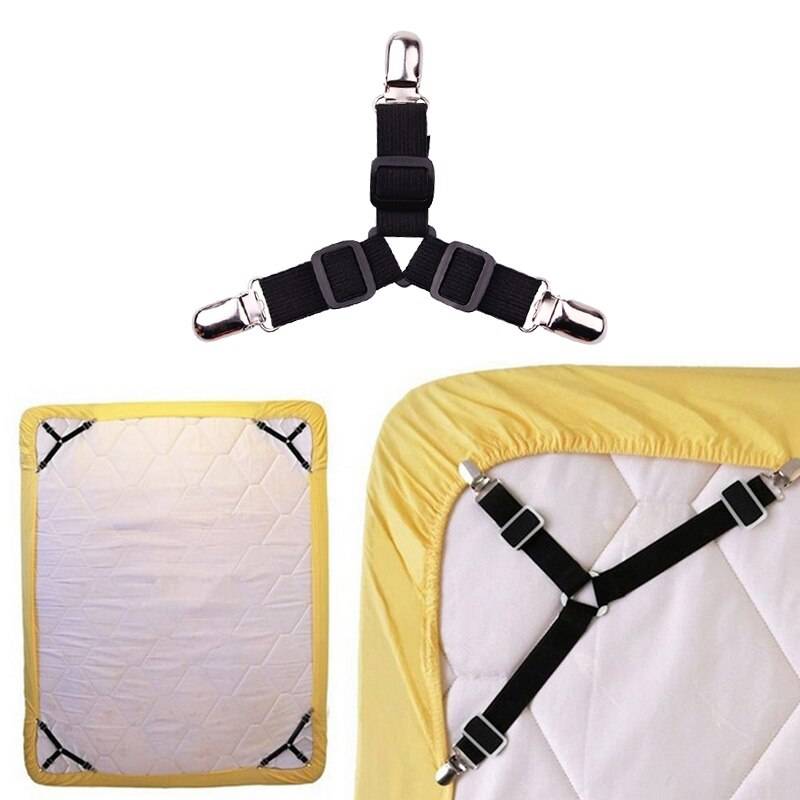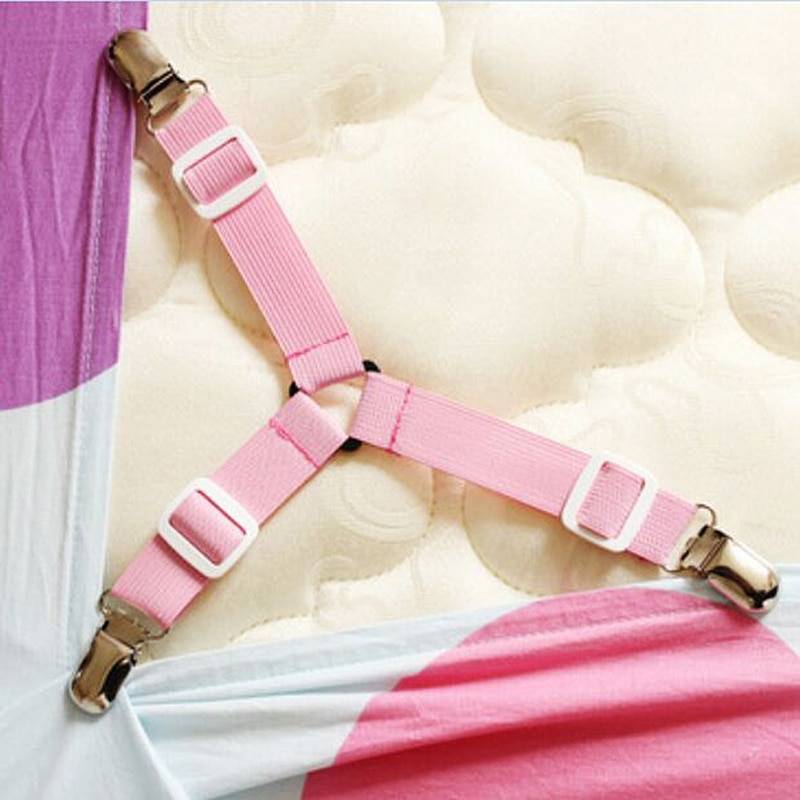 HIGHLIGHTS
Holds the sheet firmly in place and keeps it tidy all the time
Stretch from 5.7″ (15cm) to approximately 10.5″ (27cm), Adjustable lock making straps usable on different sized beds.
Wideband and sturdy anti-slip clips provide a secure and stronger grip
Fits all kind of sheet or slipcover sizes or
Adjustable buckle to allow the desired length
Easy to put and keeps corners in place with minimal effort
The built-in clenching system is made of plastic to protect your fabric from damage or tearing– 2.5cm in width per strap (about 1 inch) , each strap is about 15cm (5.7 inch) in lenght.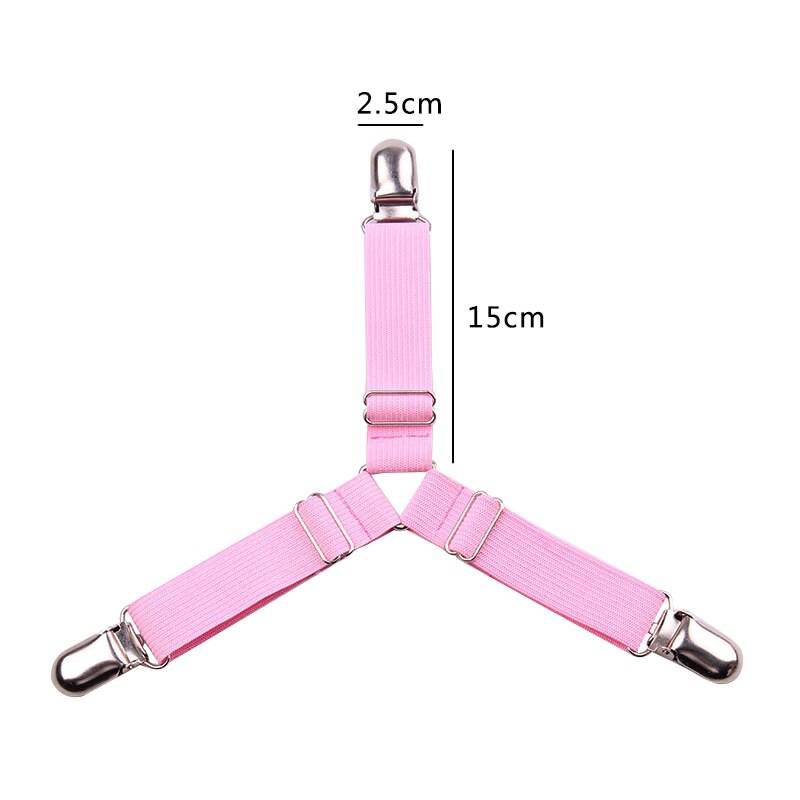 Available in various colors to match your sheets or bed.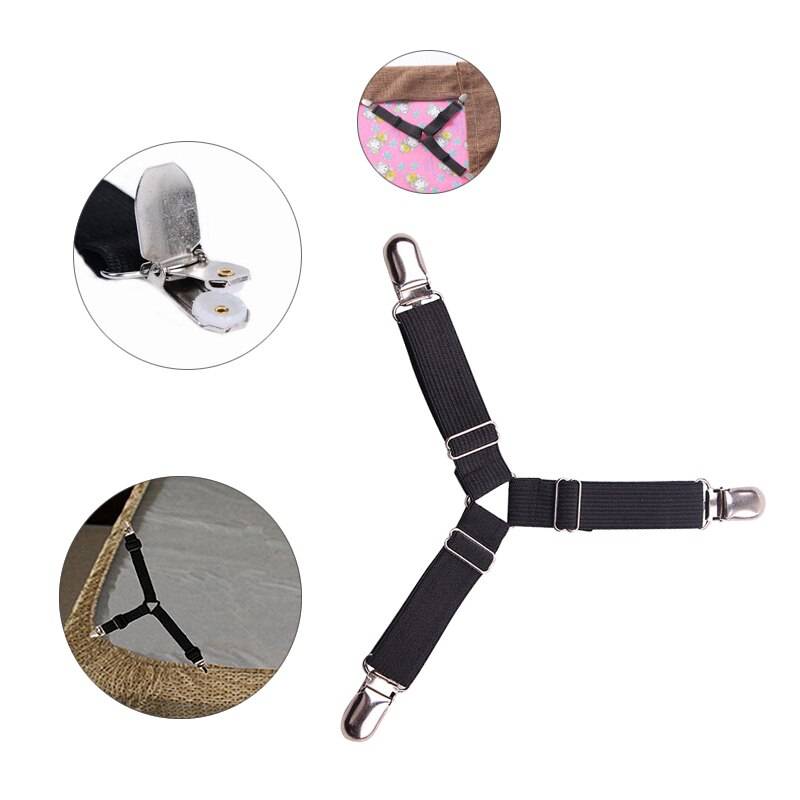 SPECIFICATION
• Material: Plastic Buckle + Elastic + Metal Clips
PACKAGE CONTENT
• 4pcs – Bed Sheet Corner Grippers