Just How Comfortable Can You get with this Comforter with Sleeves?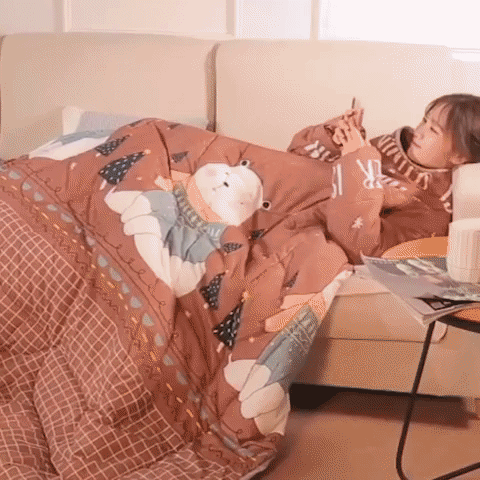 Now you can lay in bed comfortably with your smartphone, laptop or magazine because this comfy wearable blanket with sleeves keeps you snuggled up with full arm control so you can easily play games, read or just surf the Internet without catching a cold breeze !
When it gets colder, we shield ourselves from the freezing cold by insulating our bodies with extra thick blankets. But normal blankets make it quite difficult to move our arms freely. With the One Size Wearable Blanket with Sleeves that fits adults and kids , you don't have to worry about that anymore!
With its attached thick sleeves, you can enjoy feeling warm and cozy while snuggling up and enjoy the things you always do without worrying that a cold breeze gets into the comforter.
The comforter with sleeves is thick enough to provide absolute warmth for your body.
NOW 53% Off!!
Sleeved comforter has a hidden zipper at the back
Made from soft hypoallergenic and breathable microfiber
Exquisite designs
Advanced quilting technology and evenly distributed filling
Easy to wash without deformation and fading
Specifications:
Available in two Sizes: 1.2 x 1.6m. and 1.5 x 2.0m.
Material: Micro Polyester
Color: Brown / Pink / Gray / Blue / Cyan.